Getting to the Aruran III Boarding Area
Your journey starts from the Aruran III waiting room!
Our ship, the Aruran III, cruises out of the Rausu Port. It is situated near the town center as well as "Michi-no-Eki (roadside station) Shiretoko-Rausu."
Please stop by the Aruran III waiting room — which looks like a log cabin — and write down your name in the passenger list.
You may park your car right by the waiting room (for free of charge, of course).
You are ready to board once you sign the passenger list
In the waiting room, please sign the passenger list and receive a jacket that provides insulation and warmth. We will also pass out life vests, so please put them on before boarding the ship.
This whole procedure takes a bit of time; we thus kindly ask our passengers to arrive early (this will enable us to have more time to look for animals over the ocean).
Our ship will depart the port once all the passengers have arrived and are ready to go.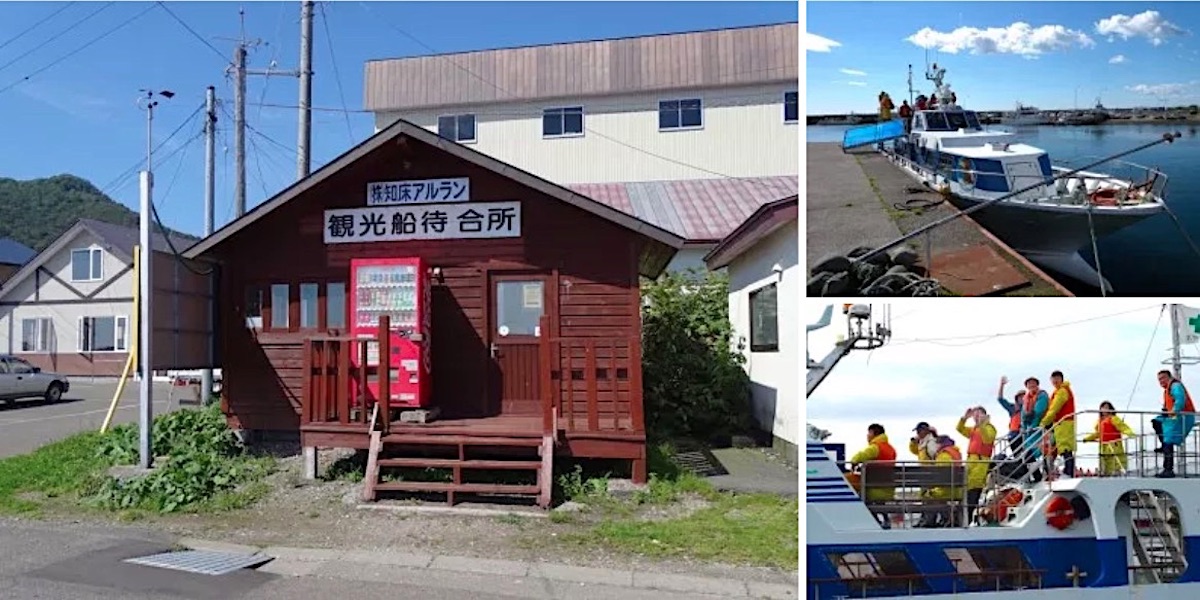 From Nakashibetsu
It is approximately a one-hour drive from Nemuro Nakashibetsu Airport to the Rausu Port, where the Aruran III waiting room is located. The scenic drive lets you observe the Kunashiri Island and the Shiretoko mountain range in the distance.
There is only one flight per day from Tokyo to Nakashibetsu, and it arrives in the afternoon — so, you may find it a bit inconvenient. Nevertheless, it is the closest airport to Rausu, and the town is only an hour away (you will be able to board the ship the next day).
If you are traveling in summer, we recommend that you stop by the Notsuke Peninsula — Japan's largest sandspit — and enjoy strolling through the primeval flower garden.
While driving along the coast from the Notsuke Peninsula to Rausu, you may also be able to spot some rare birds, such as white-tailed sea eagles and red-crowned cranes. They can be found perched on wave-dissipating blocks and utility poles, so remember to look for them while driving through the peninsula.
From Memanbetsu
If you are flying to Memanbetsu Airport and driving to Rausu, there are several routes you can take:
Via Koshimizu Primeval Flower Garden, Utoro and Shiretoko Pass: Approximately 3.5 hours
Via Lake Kussharo, Lake Mashu and Kaiyodai: Approximately 3.5 hours
Via Konpoku Pass: Approximately 2.5 hours (shortest route)
Memanbetsu Airport is the transport hub of eastern Hokkaido. From here, you may embark on a journey along what can be described as the "Mashu and Shiretoko golden route," which connects the airport with two famous lakes in the area — Lake Kussharo and Lake Mashu — and their respective observatories and lookout spots.
If you opt for this route, it is necessary that you arrive in Rausu (or Utoro, a town on the opposite side of the peninsula) a day before your boarding date.
We highly recommend that you spend a night in Rausu, located along the Nemuro Strait. The waters around Rausu are known to be abundant in planktons and other marine resources, which led to the area being registered as a World Heritage site. You will get to enjoy fresh and delicious seafood all year round, and enjoy a relaxing holiday in small, cozy inns (you will find no large groups of tourists).
From Kushiro
It takes about 3.5 hours by car from Kushiro Airport to Rausu.
We recommend that you take a route that lets you cut through the center of the Kushiro Shitsugen wetlands — the Kottaro Marsh (make sure to look for red-crowned cranes!) — and pass by Lake Toro. If time allows, also stop by the Tawadaira Observation Deck surrounded by meadows, as well as the Kaiyodai Observatory — famous as a place where the earth looks round.
If Kushiro Airport is your starting point, it is necessary that you arrive and spend a night at Rausu a day before you board the cruise.
Peach Aviation, a low-cost carrier (LCC) operating out of Kansai International Airport, flies to Kushiro, so it is an airport to use if you are coming from Osaka and other Kaisai regions.
From New Chitose
From New Chitose Airport to Rausu, it takes approximately 7 to 8 hours even if you drive on a highway.
If you are traveling with a family, we recommend that you take it easy and spend a night around Lake Kussharo.
Take the Doto Expressway to Akan IC, and then head toward Lake Toro via the Kottaro Marsh along Route 243 and Route 1060.
Head north along Route 391, and pass by Tawadaira and Nakashibetsu (Kaiyodai).
If you plan to stay overnight around Lake Kussharo, take the Doto Expressway to Ashoro IC and then head toward Teshikaga along the Akan Odan Road.
It is a 2.5-hour drive from Teshikaga to Rausu; as such, another option would be to board the Aruran III on the morning of your third day.